Innovative is proud to offer professional SEO services!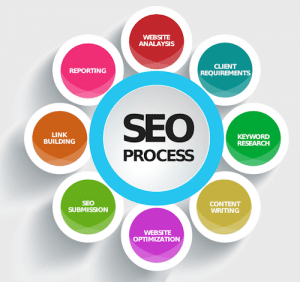 The key to making money, earning a profit, and being successful on the internet and world wide web is "traffic" to your website.  "Traffic" is another name for visitors to your website. You need to have visitors that see what you are offering and then decide to act. What action is something you need to determine when you design your site.
Action?
What "action" from your website will you define as success?   Some want email responses, or lead forms filled out.  Others may not have time to check their email so they want people to see the phone number and call them. (We have one client with a marina on a local lake that is so busy, they just want the visitors to call them.  The website provides information, but the results they want is the phone to ring. Others judge the success by how many sales are made from the shopping cart.
But the key to getting any action, is having visitors to your site.  This can be accomplished in many ways, but the most common way a site is found is by searching for specific key words on the search engines.   Another popular method is to buy "key word" advertising on the search engines, but this can become expensive.
So the question then is HOW do you get that traffic from the search engines… and how to do you get your site to rank high on the search engines?
This process is called SEARCH ENGINE OPTIMIZATION and we are proudly offering professional SEO services!
The first step is to establish which key words people are using to find the product or service you're selling.  There are tools available to help you see which words and phrases are most popular and used most frequently.
The second step is to incorporate those key words into your web pages.  These key words need to be in the text, in the headers, on the photos, in the meta tags, and definitely in the page title.
Innovative Solutions Group uses a premium WordPress SEO add-on module called Squirrly to help accomplish this. See https://plugin.squirrly.co/  Although Squirrly is priced at $19.95 for seven sites, Innovative has a special arrangement with Squirrly whereby we can give you a better price for your site.
Don't have time to do the site optimization yourself?  Contact us and we'll give you an estimate on doing the work for you and can also discuss our other professional SEO services that will surely help you start to climb the search engine rankings ladder!
Interested in any of our services? Contact us now!