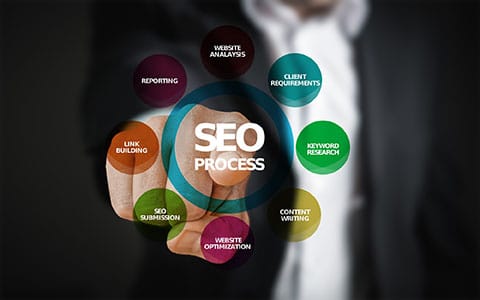 Did you know that 3/4 of all users never scroll past the first page of search results? Most of us like to take the path of least effort. And your potential customers are no exception.
Thus, it's important to use the best SEO strategies available to keep your company in the top rankings.
Let's take a look at five key SEO solutions for your solar power company:
1. Use the Most Potent Keywords
SEO strategies are the single-most important factor in determining if your company will be seen in the search engines.
In the current day when many people are going green, solar power is at its most appealing ever.
But your company won't benefit from this popularity if people can't find your site.
For instance, if users are searching for your solar power company in Bakersfield, include "solar power Bakersfield" in your posts.
Be sure to use the keywords that will get you the highest rankings. Which terms will people most likely use when they search for your company?
2. Know Your Target Demographic
You'll want to know your target demographic inside and out. Find out what they care about. What causes are important to them? What things are they interested in?
Then offer them a regular blog for your solar power company featuring topics or issues that address their concerns.
3. Provide Quality Original Content
Blogging is great, and sharing other writer's content is also good. But make sure the bulk of your blogging contains quality unique content for your potential customers.
Use interesting subjects and articles about events your company has participated in. Let your customers see that your business is involved in local gatherings and causes. Help them see you as a member of their community.
4. Always Consider User Experience
Make things as easy as possible for your potential customers to transform into actual customers. Always think about how your strategies will be received on the other side of things.
Create an easy-to-navigate website with short, simple sentences. Keep your writing at an eighth-grade level to ensure you reach the maximum amount of readers.
5. Seek Expert Advice or Services
If you have the financial resources, seek expert opinion to ensure you have the most effective SEO solutions possible. Hire someone who is experienced with digital marketing to write blog posts or design your website.
You can even seek recommendations from those who already have successful companies. Speak to someone you trust, someone who is where you want to be.
For instance, if you have a friend or professional contact who has a thriving business, ask them what they did right. And don't neglect to ask them what they wished they had done differently.
Learning from others' mistakes is an invaluable step in running a successful solar power company.
SEO Solutions for Your Solar Power Company
Whether you're a newbie at the game of business or a veteran company owner, you can always learn more about SEO strategies. This field is constantly evolving and improving in the way it supports businesses, and you want to be able to keep up.
These are our five key SEO solutions. What would you add to our list?