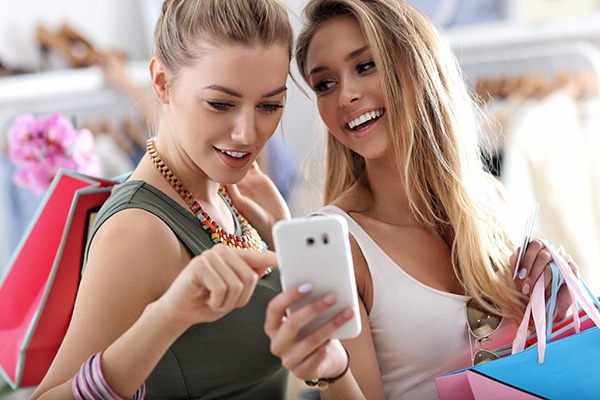 Building a website for your online boutique can be tough, but it doesb't have to be. Checkout the 7 important web design tips to help get the job done better. Let's dive in!
Does your online boutique pass the 2 to 3 second test?
This is the amount of time a visitor will take before hitting the back button. Mere seconds before they make their judgment. A judgment influenced by site speed and website design.
The standards and best practices for website design have changed. Perhaps your boutique's site is still living in the 90s.
Let's fix that — here are the web design tips you need to apply.
7 Online Boutique Web Design Tips
To list every web design tip would cause information overload. We've stuck with the ones most likely to deliver exceptional value. Try one (or all) of these:
1. Use Better Images
Studies have shown that faces are a major attention-getting element. The same study shows how we read in an 'F Pattern'. Placing crisp, high-quality images on the top left of the page will increase engagement.
2. Use Bigger, Easier-to-Read Fonts
A study by IBM found font selection either improved or reduced legibility. The study found serif fonts the easiest to read. Changing the font size from the default 12pt to 14-16pt increased reader attention. The line spacing, too, helps with legibility.
Change them with:
Google fonts
DaFont
UrbanFonts
3. Use a Mobile-Ready Theme
Smartphones have eclipsed desktops as our preferred way to access the Web. A mobile-friendly website is crucial for delivering the whole experience. It's not only the usability. Google increases search engine rankings for sites offering a mobile experience, too.
Check to see if your site passes the mobile-friendly test. Then, get in touch if your online boutique is lacking.
4. Use Many Call-to-Actions
This website uses many call-to-actions to 'shop now' versus having one at the end of a long scroll. And people do scroll! If the only CTA is above the fold, then you're missing an opportunity as they're exploring.
5. Use Site Caching
Caching services improve the website load speed. A local copy of your website is saved to improve its delivery. Lowering the site speed will reduce bounce rate. A faster loading time also improves search engine signals to boost rankings!
Cache it with:
Amazon AWS
Akamai
Cloudflare
6. Use One Page, Transparent Checkout
Shopping cart abandonment is about 69.23%. Forcing visitors through many pages to check out will cause this high rate. Convert your checkout page into a one-page experience. Also, place all vital information front-and-center so visitors aren't second-guessing.
7. Use SEO Strategies
Great SEO begins with a solid web design built on best coding practices. Then you'll need to get the word out there through content and social media participation. An increase in site visitors will provide data to make online boutique improvements.
To grow your search rankings:
Improve on-page SEO with keyword selection
Create more content for users and search engines
Build links from authority sites
Get mentioned by news sources and influencers
Have the community leave feedback and reviews
Scared of Breaking the Site? Let Us Help!
It's a daunting task having to fiddle with the website code. A small mistake could take it offline…this could cost thousands every minute in lost sales!
We're here to help.
Get in touch to learn about our WordPress web design services. Learn how we can turn your tired online boutique into a leader through these web design changes.