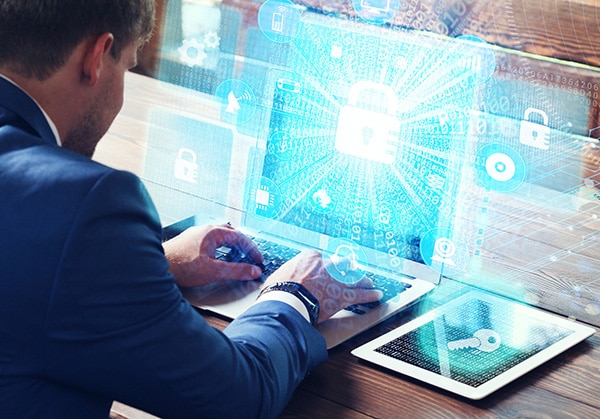 Hackers take over 30,000 websites every day. Most people don't realize that a large portion of these websites belongs to small business owners. There's a common misconception among small businesses that only large corporations have servers that are worth hacking into.
This way of thinking is what makes them easy targets. Protecting your website data is just as important to your business bottom line as generating leads that convert into paying customers.
If you use WordPress for hosting, you probably already know you can purchase proxies and there are also tons of helpful plugins you can choose from to improve your site.. Have you had a chance to look over the ones that offer website security? Do you know which ones are the most effective?
Continue reading – we'll tell you everything about the best WordPress security options and much more.
Do You Really Need to Secure Your Website?
Did you know that cyber attacks generally cost small businesses between $84,000 and $148,000? Debts within this range often put small business owners in a position they can't get out of.
In fact, a full 60 percent of small companies that experience such an attack are forced to permanently close for many reasons. Here are a few:
Security Breaches Scare Customers Away
During security breaches, hackers can steal customer data. The type of information you have stored depends primarily on the type of company you run. Some of the customer data that might be stolen is:
Email addresses
Credit card data
Banking information
Passwords
Home or mailing addresses
Medical data
When this information is stolen, sold, or made public, your customers can become victims of various types of fraud.
One of the most damaging is identity theft, which claims a new victim every two seconds. It has been known to ruin people's financial standing, credit reports, and cause them to lose their homes.
If you have an expensive security breach to deal with and people are afraid to shop at your business, you won't have the opportunity to make up for it with incoming revenue.
Malware Installation
Malware is used to damage or disable computers. It can be used to spread viruses and spy on Internet users to collect sensitive data.
Ransomware is a type of malware that's used to take over your computer. Hackers will threaten not to give you access to your information unless you pay a ransom.
In many cases of hacked business websites, hackers have installed ransomware to threaten business owners and their customers.
In other cases, malware is used through a phishing scam to spy on Internet users to obtain information like passwords, details about their habits, and other sensitive data to later use against them.
They Ruin Your Public Reputation
Let's say you're one of the luckier business owners who had enough money in savings to deal with the damage that followed a security breach. That's great, you have no debt and you can still perform your normal business operations, right?
Not exactly. Your brand image is a description of what customers feel or think about when they come across your company or hear it mentioned.
It holds a lot of weight because people make purchases based on emotion and then back the purchase up with logic after. If customers associate your business with feelings of fear or mistrust after your data breach, they will spend their money with a more trusted competitor.
Securing Your Business Website
People who operate brick and mortar stores often secure their merchandise without giving it a second thought. Often times, you'll see things like security sensors on products, an alarm system that's used after hours, or even a security guard on the premises.
Website owners, on the other hand, usually aren't aware of the services they need to protect their businesses the same way. Traditional virus protection programs aren't equipped to protect you from the threats listed above.
You need stronger protection that's designed specifically for business owners. If you use WordPress to host your site, you won't have to go far to properly secure your data because they have all the protection you need readily at your disposal.
Best WordPress Security
There are multiple layers to using WordPress security. Getting it right can be a time-consuming process, as can involves using multiple plugins and other tools.
If this sort of thing isn't really your cup of tea, you're not alone. There are some reputable services online that can secure your website for you.
If you're more of a do it yourself person, this WordPress security guide is for you.
WordPress Backup Options
Backing up your data is important under all circumstances, not just for the sake of cybersecurity. When your website is backed up, it can easily be restored.
The first rule of backing up your data is to use a remote location outside of your WordPress hosting account. This isn't a place where you should skimp. Use established and trusted cloud services like Stash, Amazon, or Dropbox.
You should back your site up as often as you update it. If you upload a new blog post every week, for example, you should make weekly backups part of that routine.
There is even a setting on WordPress that allows you to easily schedule your backups. Look into the VaultPress and BackupBuddy plugins to see if they peak your interest.
If not, WordPress has a ton to choose from. Some are free, while others charge a monthly fee.
Simple Security
Once you've got your backup plugins all sorted out, you need to look at plugins to take care of your security needs. It's best to use one that monitors your website's activity, tells whether your files are trustworthy, and reports failed login attempts among other things.
There are a number of free and paid for options in this category on WordPress too. Some of the features from the best plugins or outside services should include:
Brand reputation monitoring
Malware scanning
Malware removal and hack repair
SSL certificate support
You can try out different options to get a feel for which features work best for you.
Use Web Application Firewalls (WAF)
Utilizing a web application firewall (WAF) gives your business website an extra layer of security that you can't afford to operate without. This particular type of application blocks malicious traffic before it has a chance to attack your site.
WAF can vary, so you should make sure you're using an option that covers all of the important bases. Some of the benefits you can benefit from with WAF are:
Bot Blocking
Hackers often use a variety of automated tools like bots to attack websites. This feature makes it so that these attacks are automatically blocked as soon as they're detected.
Geo-Blocking
Attacks tend to come from a few specified countries. If your business doesn't operate in those areas, you can block people who are attempting to access your website from those particular IP ranges.
Protected Pages
This feature allows you to protect pages on your website that display sensitive information. you can protect them by adding passwords, CAPTCHA, or IP whitelisting.
Other WordPress Security Methods
One of the great things about WordPress is it allows full customization. You can customize your behind the scenes information as what the public can see on your website.
This customization includes features that will enhance your site and make it more difficult for hackers to penetrate. Here is how it works:
Change Your Username
In its early days, WordPress automatically assigned the username "admin" to all new accounts. This caused a major hacking problem considering one of the most important halves of people's login was basically made public.
This practice has since gone away, and WordPress now requires users to set up a custom username and password when they sign up. The problem is that some people who use the one-click installation are still set up under the "admin" username by default.
Check out your profile to see what your username is. If it's admin, you should definitely make some changes. WordPress doesn't allow you to simply change this username in your profile, but there are a few other options.
You can set up a new admin username and delete the original one after, or change your username through the Username Changer plugin on the site.
Turn Off the File Editing Feature
There's a code editor in WordPress that allows you to edit your themes and plugins from the admin part of your account. If you are hacked, this data can pose a major security risk.
Since it isn't a feature that most website owners don't use or adjust often, you will up your website's safety by disabling it.
Put a Limit on Login Attempts
If you keep your setting in their default mode, users can try to log into your WordPress site as many times as they need to in order to get in. This option for unlimited login attempts give hackers enough tries to figure out your password by trying multiple combinations.
Putting a limit on the amount of failed login attempts will automatically make your site less vulnerable. If you're already using the web application firewall we spoke about, you don't have to do this manually because it's automatic.
If you don't use the WAF, you will first need to install the Login LockDown plugin on WordPress.
Once it's up and running, you'll see where you can enter a maximum number of login tries within a certain amount of time. You can also choose how long these parties will be locked out from your website among other things.
Protect Admin and Login Pages
Hackers can usually request your wp-admin folder and login page with no problem at all. This gives them an opportunity to try a Distributed Denial of Service attack (DDoS attack), which can make your site unavailable.
Security Questions on the Login Page
If someone is attempting to break into your WordPress account through the login page, adding a security question will add another challenge.
Adding a security question isn't very difficult and won't take much time. All you need to do is install the WP Security Questions plugin and create a question and answer.
Log Idle Users Out Automatically
How many times have you been on a website and left your computer with the page still visible? Most people do it and do it often.
But do you know the risk it poses if one of your customers did it? A hacker can hijack their login session and steal their account by changing passwords and login data.
They can also perform actions and make changes to the user's account. This is the reason websites with important data like your online banking site log you out after several minutes of inactivity.
And of course, there's an easy plugin you can install to set your automatic logout settings.
What If Your Website Is Hacked?
Even with the best WordPress security, a website will still be vulnerable to hackers. All websites have a particular amount of vulnerability, even large corporations.
If your website is hacked, the process of repairing the damage requires a high level of expertise as some complex concepts are used. A pro will know how to eliminate the backdoors and other functionalities that a hacker may have added to your site to make their own job easier.
Whether you need help maintaining your WordPress site or improving your local SEO, contact us! We've helped plenty of business owners and we'd love to help you too.