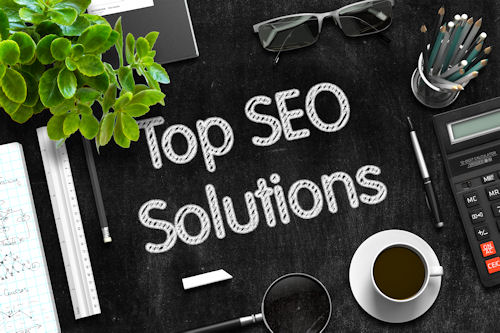 If your online business isn't taking advantage of all that SEO solutions offer, you're bound to fall short of the competition.
Between 80 and 90 percent of potential customers are turning to online searches and reviews before making purchases, and this number is only projected to increase as time goes on.
Make moves to land your online business in the top results every single time with these three simple and effective solutions:
1. Be Mobile Friendly
In a mobile-user saturated online world, having a website that's mobile friendly is imperative to your businesses success.
Optimize for Google
With Google earning the 4th spot on the list of most used mobile apps, and over half of all of Google's searches coming from mobile users, it's a no-brainer that you would want your business website to be optimized for mobile searches.
Some of the best ways to do this are by running a mobile version of your website and making sure that your load speeds are quick.
Make the Mobile User Experience All It Can Be
Designing your website with mobile users in mind will give you the best chance at converting the traffic that search engines bring in.
If your text is too small, your buttons are too close together and difficult to access, or your site doesn't fit on a mobile screen, it's likely your potential customers will click away and go somewhere else.
Make your business website do the most for you by implementing features like easy to fill out contact forms and navigation bars that are mobile-friendly.
2. Monitor and Improve Site Health
Your website's health will not only impact your SEO results but will also have a hand in how well you're able to convert your traffic.
For sites like an e-commerce store or a Paystub generator especially, the health of your site can make or break your revenues.
Monitoring for things like slow loading speeds on certain pages, text graphics and photos that aren't loading properly, and faulty plugins will keep you ahead of the game.
3. Value Quality Over Quantity
When using SEO solutions to bring in more traffic to your business website it can be tempting to put up a lot of content without being terribly conscious of the quality of that content. Don't.
Quality will win over quantity every time and your results will not be nearly as fruitful if you're putting out mediocre content.
In rankings, a website with high traffic levels and good conversion with less content will always do better than a site flooded with poor quality content or product offering.
Focus on creating and sharing content that is high-quality and aligns with the purpose of your brand.
Use These SEO Solutions for Better Results
Don't just take it from us, see results on your own site by implementing these three effective and simple SEO solutions.
The team at Innovative Solutions Group in Helena, Montana is here to help move you forward to better business results by fulfilling your web design and SEO needs.
Drop us a line and let us know how we can help!