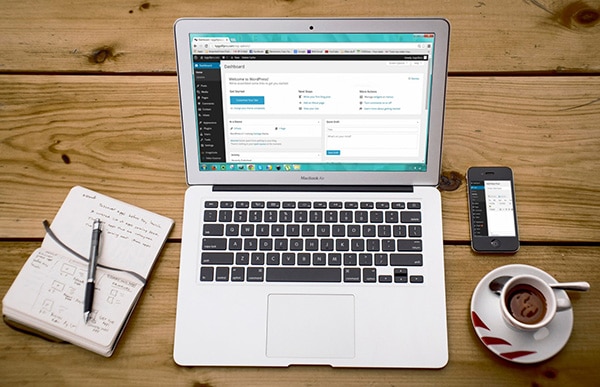 WordPress powers almost 30% of all websites in the world. In today's world, people prefer efficiency in technology. The considerable number of websites that WordPress has taken shows that they've confidence in it.
The broad preference to WordPress is usually because of its diverse products which enable it to meet the needs of different types of users. Websites powered by WordPress range from personal blogs to e-commerce websites.
WordPress gives skilled users considerable leeway to modify its templates. This flexibility means that websites resulting from available templates are usually as per the user's preference or close. It is one of the reasons why many website owners prefer to be powered by WordPress.
It's vital for you as a business owner to have an understanding of WordPress hosting. That understanding would help you make an informed decision when choosing a hosting service for your website. What is WordPress hosting? It's a service offered by a website host that is optimized for WordPress sites. Look inside for more.
What is WordPress Hosting?
As far as an end user is concerned, a website development service can't be better than its web host. To better understand WordPress, we must ask ourselves the question.
WordPress hosting is a service offered by a website host that is optimized for WordPress sites. It involves design, support, maintenance, and all other services necessary for the optimal performance of a website.
Factors to Consider When Choosing a Hosting Service
There are different types of WordPress hosting from which you can choose. The following are the factors to consider when selecting a hosting service:
Cost: – The costs of hosting WordPress sites is relatively low. However, price varies from one level of hosting to the other. The difference in cost is predicated upon the number of resources available to the website. Another factor to consider is whether it is a managed or an unmanaged hosting service (The unmanaged hosting costs less).
Technical support: – The support services offered by the host are a crucial determinant on whether a hosting service is good or not. Most website owners don't have sufficient technical skills to run a website. It's vital for a hosting service to offer reliable customer support when needed.
Performance: – Some hosting services lack the proper infrastructure that is necessary to provide services. If a hosting service doesn't have the right equipment for the job, your website is likely to experience unnecessary outages.
Web hosts give their customers different options depending on their needs. The following are some of the hosting options available for WordPress website owners:
For a person who is just starting, shared hosting is the best option. At the cost of about $3.95 per month, it is the cheapest option available. Shared hosting means that you'll be using the same web server with the other clients.
This option is best for websites with low traffic and requires low storage capacity. While it lacks many of the advanced featured found at other levels, it's easy to use. The ease of use is deliberate as shared hosting is targeted at beginners.
When you use shared hosting in the initial stages, you develop the competence to use more advanced options as your blog grows. Any website that has 100,000 visitors and below can use shared hosting and return satisfactory services.
While this service is affordable and easy to use, it has its cons. The biggest of these is its relatively poor performance. The poor performance is because the host has to allocate a certain amount of resources to each of their clients sharing the server.
The sharing of resources is made in such a way that the allocation is not wholly dedicated to you. Such sharing means that how your website performs will be determined by other websites with whom you are sharing a host.
Under some settings in shared hosting, the host may cap the allowed visits per website to a certain number of visits per month. Once the quota has been exhausted, the website malfunctions. The allocated quota may be quite low, thus making this hosting option quite limiting.
When using shared hosting services, you have no control over the server settings or software installed. If you've got a particular preference, you need to inquire on system and software setting in the server before engaging the services of a host.
Performance usually deteriorates as traffic to the website increases. Increase in traffic to other websites with whom you are sharing a server also affects your website's performance. When your needs and those of your clients are not adequately met, it becomes necessary to look for a more advanced hosting option!
Virtual Private Servers
Like shared hosting, virtual private servers involves different websites sharing the same server. However, unlike shared hosting, in VPS, you get some resources dedicated to you alone. The private space you get with VPS means that the activities of other users can't affect the performance of your website.
In addition to the relative autonomy of resources, VPS allows you more control of your server. You can decide on the settings, configurations, and even the software to be installed in your space. The space allocated to you is the reason why this hosting is known as virtual private.
Site speed performance is much better under VPS. Site security is likely to be better too as you've got the leeway to optimize the settings as per your needs.  Resources available under VPS are also scalable, which allows you the flexibility to increase them as your visits increase.
Cloud Hosting
Unlike shared hosting and VPS, cloud hosting is not based on physical servers. It's based on cloud architecture. The most significant advantages rendered by the cloud option is scalability and safety.
The website's performance is affected whenever there is more traffic than the resources available can handle. This challenge is eliminated by cloud hosting because it's easy to scale resources to match demand at any given time quickly.
Scalability helps to ensure you only engage the resources you need. With other hosting options, your traffic may reduce after you've upgraded to more resources. That leaves you with a high-cost hosting alternative that you are not fully utilizing. Cloud allows you the flexibility of increasing resources or reducing them at preset intervals of time depending on traffic in the preceding period.
This alternative is particularly suitable if you are offering SaaS. It enables your clients to access their data more easily as well as receive regular software updates.
Dedicated Server
Under this arrangement, you don't share any of the server resources with anyone. You have the entire server for your use. This option is relatively more expensive. However, it's the best option for you to go to when you have high traffic, usually more than 500,000 visitors per month.
A dedicated server offers enhanced performance. Your visitors can access services without the usual bottlenecks.
Server Clustering
This option is best suited for websites with really high traffic. A cluster is where many servers are dedicated to hosting a single site. These servers have the same IP address, and the hostname is the same. In a high traffic environment, downtime is a significant cause of concern.
Visitors to your website would very likely lose confidence in your services even for the briefest downtime. If any of the critical resources such as software or storage drives fail in one server, the functions the host transfers the task to another server in the cluster.
Website failures that come as a result of external disruptions such as power outages are also absorbed within the system.
Managed and Unmanaged Hosting
All the above website hosting options come in two variants. Managed and unmanaged. You need to understand how each one works to help you choose.
A wrong choice between the two would end up depriving you of optimal website performance. Unmanaged WordPress hosting means that you are in charge of all the technical details of your website. Therefore, the host only gives you space.
Unmanaged Hosting
Unmanaged hosting gives you the leeway to decide which technical aspects of the website to change. To benefit from unmanaged hosting, you need the technical know-how to handle this kind of work.
Managed Hosting
Right from the level of shared hosting, managed hosting is more expensive than unmanaged hosting. As a beginner, you might wonder whether it's worth paying extra for the management bit of hosting.
Owing to the popularity of WordPress, some hosts have opted to work exclusively in it. In addition to offering the hosting services, they handle all the technical aspects of the website.
This outsourced management system enables you to focus your energies on running your business. You may employ someone in your business to manage this service for you. However, likely, the person you hire will only have a general knowledge of web management.
On the other hand, your website hosting service provider will have focused all its energy to understand WordPress. They are better at it than your ordinary web admins. The following are some advantages of managed services.
Speed: – Managed services are dedicated and optimized for WordPress. Thus they are relatively faster than other hosting services even when a website experiences higher traffic than usual.
Daily backups: – A website under managed hosting gets backed up every day. This update service has restore points in the event you want to go back to a previous position.
Expert staff: – The team that manages your website are usually experts in WordPress. They understand details such as which plugins will slow down your site and advise you against using them. They're able to speedily solve any problem that may sometimes occur even without your visitors knowing there was any problem.
High level of security: – The security of your managed website is likely to be higher because the host is always working to tighten it. The fact that they only focused on ensuring websites under his care are protected also helps.
Regular updates: – The security and other WordPress features are updated automatically. Thus your website will never lag in technology.
Managed WordPress hosting is considerably more expensive than unmanaged shared hosting.  The cost of the unmanaged option is just under $4 per month while the managed option will cost you almost $30 per month. The difference is substantial, but you won't be spending anything else to manage your website.
A managed service denies you control on what changes get made in your website.
Who Needs Managed WordPress Hosting Services?
What is WordPress hosting? That was our original question. Now we need to ask ourselves who needs managed WordPress services.
A beginner who is making no money from their website should try to avoid the more expensive managed hosting. A new site can comfortably be run through the regular WordPress hosting services regardless of whether you have the necessary technical skills or not.
As your traffic increases and your business continues to grow, you'll need to do more to manage the security and updates. At this point, you'll need to decide whether to employ a system admin or to start using managed hosting services. If you compared the cost of hiring and managing staff, a managed hosting might be your best option.
The assertion that beginners can do without managed hosting should be qualified. You may be a beginner with an e-commerce website whose management is complex. In this event, you should consider it more prudent to use managed services.
Optimized website hosting is usually charged on an hourly, monthly, or annual basis. The information above gives you a good understanding of services in general. However, to better understand your challenges, you need to consult with an expert.
The WordPress expert will listen to you, understand your needs, and help you decide the best package for you. The expert you choose to assist you in website hosting should have several years of experience. They should also be reputable in this industry.
With over 25 years in the industry, we are both equipped and committed to making your WordPress experience flawless. Contact us for a free consultation.