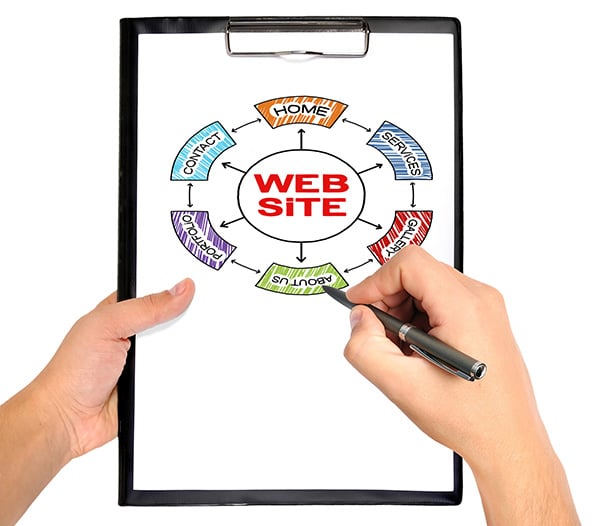 At the time of this writing, there were more than 1.87 billion websites online.
Less than 200 million of them were active though.
What does that say? For starters, that it's quite easy to launch a website. After all, there are many website design and creation tools you can find on the Web.
Second, that without the right website design checklist, your site can quickly join the throng of those inactive 1.67 billion websites.
Because as easy as it is to launch a website, it's far more challenging to make one that can leave a long-lasting impression on visitors. One that can wow its beholders within the first seven seconds is imperative and what it takes to leave a great first impression.
So how do you make certain your website meets the standards of modern consumers?
Don't worry. We'll show you the way.
Check out this ultimate website layout design checklist for guidance!
Determine Who and What It's For
Unless you'll use the website entirely for personal, non-profit purposes (think online journal), then you need to factor in the people who'll visit it. They're your target market. They're who you're designing and developing the site for.
By considering the who, you'll have an easier time establishing what the site is for. Will it be entirely educational and serve as a community for like-minded people to communicate with? Or will it serve as the online gateway for your retail or boutique business?
At the end of the day, your site's design, content, and navigation should align with your specific audience, their needs, and their goals.
Think of your target's age and what makes them visit websites like yours in the first place. Don't forget that gender also matters. Men and women have varying preferences when it comes to design elements, such as color and tone of voice (in terms of content).
Follow the Formula
If you're new to the world of web design and dev, you're probably thinking, "What formula?" It's quite easy to remember:
Exceptional design = Greater trust = Higher conversions.
These three things (consisting only of six words) will help you avoid forgetting everything else on this website design best practice list.
Always keep in mind your website is likely the only thing consumers see about your brand. So, you want it to leave people so awed that they'll do exactly what you hoped they will (more on this below).
You also want it to attract the other right kind of attention from the media and other relevant sites. With credible and high-ranking sites linking back to your site, you'll see a huge difference in traffic and even conversions.
Simply put, don't forget the design should be as aesthetically pleasing as possible. That means your site should look amazing and modern, and feature the right colors as well. If it makes visitors think they're back in the 90s, you'll have no way of competing with the million other websites out there.
Start with a Minimalistic Homepage
The average reader gives blog posts attention for only 15 seconds. For the most part, these readers scan pages, with their minds looking for specific words, phrases, and sentence. They skim, in other words.
It's not purely preference though – the brain is wired to read web pages differently than paper.
There's science behind skimming, and to make attract and keep visitors in your website, you shouldn't fight this human behavior.
This said, give your visitors what they're searching for right away by creating a minimalistic homepage. The less searching for they do, the easier and faster they can process what your site is all about.
This then increases your chances of making them do what exactly what you wanted them to:
Keep looking at your offers
Remain engaged
Leave a response
Share your website or content with their peers
Or better yet, pay you for your products or services.
Also, to keep a clean website design, combine texts with images and high-res videos.
Alternating between them can help you relay your message and point easier and faster.
Clean and Clear Content Arrangement
There's a visual hierarchy to website design. The first thing people look at is the top left corner of a web page. They then follow through with an F-like reading pattern.
This said you want to arrange your pages in such a manner. That's how you can reach cleanliness and clarity for all your web pages. That's how you can grab visitors' attention and tell them right away what you have to offer them.
Once you've established this obvious information hierarchy, your readers will unconsciously follow the rest of the pattern – all the way to your call to action.
Fuel Interest with Color and Font
There's a different color for every different mood – red stimulates the appetite, green relaxes, and blue stirs up feelings of security.
Just think of product sales both online and in department stores. Red is always dominant in their discounts signs, right?
Then there's blue that you'll find present in almost every bank's logo and branding assets.
Using these effects of colors on your website will stir the right emotions in visitors. Your website is a branding tool after all. So, it should also feature the right color best suited to what your brand is all about.
Also, let's not forget typography has similar effects.
For instance, your primary concern is to make people know that you're a respectable brand. In this case, you may want to use serif typeface.
On the other hand, if your goal is to inform people that you have a modern business, a sans serif typeface may be a better option.
From here, you can then apply suitable font size and spacing. Make your typography (and content) as readable as possible. The easier it is for users to digest your web content, the more fun they'll have perusing your site.
Go Through Your Website Design Checklist Again before Launching
Before you push through with the big launch, you should've crossed off everything on this website design checklist. This way, you can make certain your site visitors won't see that annoying 404 error page soon after you launch your website.
That said, we'd like to congratulate you in advance! But if you need more help and advice on how to make an amazing website, then feel free to check out our WordPress web design services.