All serious businesses strive to get a good ranking on Google. To achieve this, a lot of hard work is needed as the competition is fierce.
To get a great ranking, all business owners will be optimizing their websites and creating awareness through Google Ads. But there is a third important tool to improve rankings and grow the business. It's called Google my Business.
Google my Business optimization helps you showcase your business at one easy glance, providing the crucial details potential customers may be looking for. By optimizing your Google My Business (GMB) account you will be providing the exact location, contact details, hours of operation, reviews, and pictures of your business. On top of this, as a complete bonus, Google my Business is free!
For those not using this platform, it's a listing of your business profile which gives your customers and instant view of your business.
This article will help guide you to how to best optimize Google my Business to ensure that you use this great tool to the best advantage of your business.
How do I Optimize My Business Profile on Google my Business?
Creating your Google Business account is dead easy
First log in to google.com/business with a business Gmail account. If you don' have one yet, you will need to create it.
Take your time to meticulously fill in the information required. You want Google to have all the information about your business so that all your customers questions can be thoroughly answered.
Ensure your business details are precise and detailed:
Business name per your logo and signage
Your address is correct, no abbreviations or shortcuts
Your operating hours per normal days and holidays.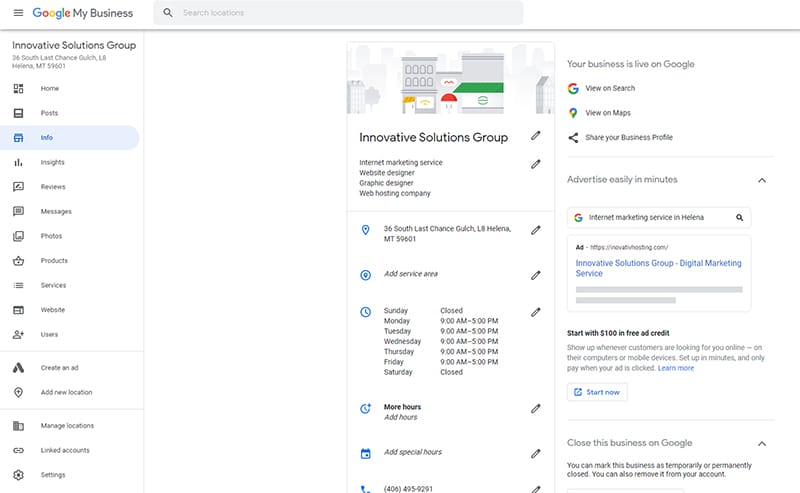 Your GMB business description
Next in line for Google My Business optimization is your "from the business" description, which is below your business name. You are given some choices for the first part, not entirely in your own words, but which most accurately describes your business.
However, you are allowed 750 characters to best describe your business. Incorporate keywords here, make these words are all unique, and describe your business in a way that is appealing. Leave customers with a clear idea of why your business is better than your competition, and what others like about it.
The choice of Business category
This is an extremely important section when it come to proper Google My Business optimization. Look through the categories provided by Google and take your time to see the options provided.
By properly optimizing your Google my Business profile you will increase the likelihood of your business being found. Look at the additional category features that will enhance the attractiveness of your offerings. Such features taking the example of an airline company could be a low-price offer, or doggy parlor, an added dog food discount and so on. These added extras can give you the edge over your competition.
Choose your niche carefully, specify your service. If you are selling hats, make sure you focus on what they are, such as "safari hats" or fashion hats".
Include your secondary category. If you are primarily a shoe store but fix shoes as well, your primary offer is "shoe store" and secondary "shoe repairs"
Keep it simple, and don't confuse Google, this works against you.
Use the Attributes selection
Attributes for your business can be chosen from the "Answer quick questions" link on your Google my Business account. They are designed to get quick yes/no answers from customers.
It's an excellent tool to give you insights into your business from customer feedback. Pick the relevant attributes listed in your Google my Business dashboard, there are many to choose from. These are the desired features that future customers may be needing from your business, like "free wi-fi.", or "playground for children"
Make full use of Photos 
Really good, interesting photographs make all the difference and its worth taking the time to ensure you do this well. Regular updates and continual activity send a good signal to Google that your business profile is active, relevant and new all the time. It will really help your ranking too.
There is no limit on the number of photos you can add. Research shows that profiles loaded with many photos get more customer engagement than others, so make the effort.
Some tips about photos:
One photo a week consistently is good
Ensure you add your logo and profile photo
Your cover photo should represent your business best
Google has photo guidelines for specifications to follow.
Stay away from stock photos and make sure they are yours, about your brand.
Ensure that your photos are of the highest quality and definition.
Tag the photos to emphasis to Google you are active in your area.
Upload interesting videos and use Google's street view feature.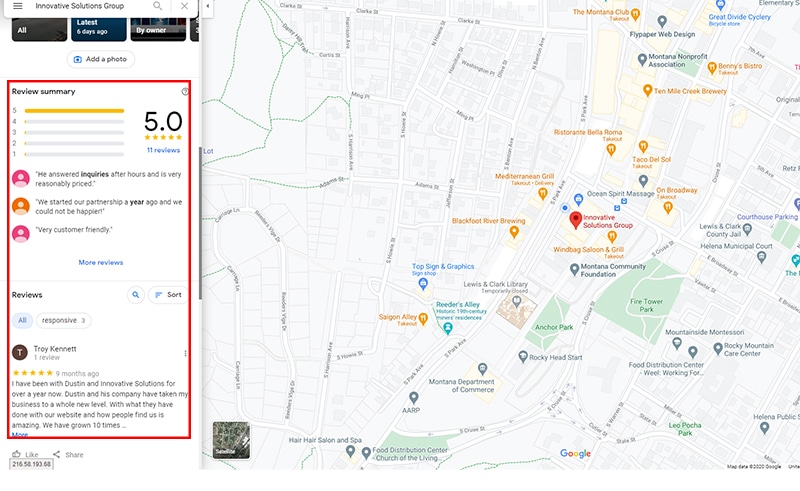 Optimize GMB using reviews
This is one of the most important, yet sometimes underutilized tools for Google my Business optimization. A five-star rating has meaning to customers. It's a reference for them to assess the reputation of your business.
Google gives a lot of credence to reviews, and this is built into their algorithm. Google even helps give weight to key words in reviews by highlighting them in bold.
Here's how best to go about it:
Use the reviews from your best customers to get started
Use review shortcut links to save your customers a lot of hassle.
Don't be shy: ask your customers for a review, most are willing to oblige.
Explain to customers how they help you and future customers
Include a review page on your website leaving an invite to post one.
Be proactive when you get a review and give customers feedback
Remember reviews must be authentic, and customers can't be coerced or given an incentive to do so.
Use your Google my Business for Posts and Q&A's
In the "updates" section is a place to do posts. This useful feature can advise customers of the likes of "Covid" related actions, or special offers, events or products. Again, this activity is seen positively by Google.
A Q&A feature on your Google Business profile also needs to be optimized, and you can do that by creating your own Q&A's of the most frequently asked question you know your customers would like to have answers to, and provide the answer yourself.
Messaging interface
A messaging tab on your dashboard helps set you up with your Google Play or the Apple App Store. By setting up alerts for messages the Google My Business dashboard, you will be alerted to incoming messages.
Lastly, keep up the activity on your Google my Business Profile, so schedule time on a regular basis for maintenance. The results will be highly rewarding!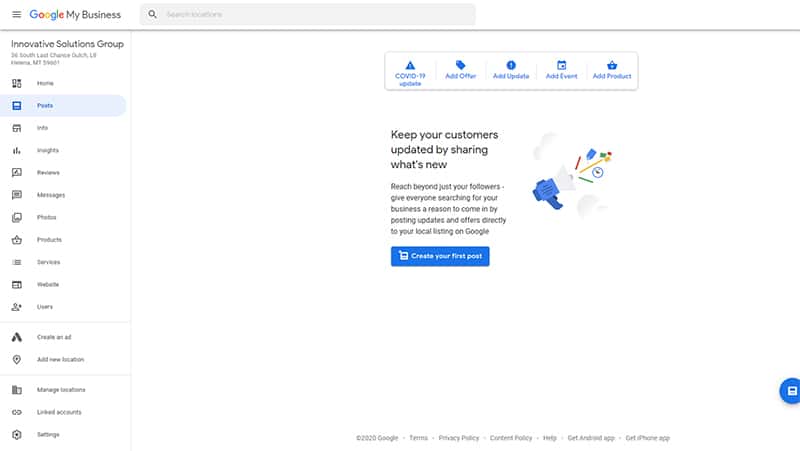 Google my Business Optimization FAQ's
By going to Google.com/business, and creating a GMB account, you will fill in your business information. This can be done by anyone it doesn't necessarily have to be the owner. However, the verification should be done by the owner of the business, or the designated manager. A verification code will be needed to be sent to that person to go live on My Google Business. Your listing can be managed by more than one designated person, and each person can have a role in maintaining the My Google Business listing.
What is the best way to verify my business on Google my Business?
There is no best way, but you have three options, some quicker than others. Email is the most common method used, and after you have entered your business information you will receive a code to your email address which you use. The second way is to receive it on your phone, where you will get the code to enter. It may not be available to all businesses though.
The third way is through the mail, which is a long way round, as you will have to wait for the mail to arrive. Its not the ideal way as we are sure you want to get going with your listing as soon as you can.
I service my local community: Will Google my Business help drive local business?
Yes, when a customer is looking for a service like yours in your area, they will find your business location through the GPS coordinates on Google my Business. If they did the search on their smartphone, the customer can simply be guided to your premises via Google Maps. Next you know it the customer is at your doorstep buying your product!
How will my business benefit from a listing on Google my Business?
The fact that all your important details are found in one glance on the listing makes it easy for a customer to get a snapshot of your business immediately. Like your contact details, location, business hours, pictures to authenticate your existence. They can read reviews and posts while being able to easily send instant messaging. The best thing about Google my Business is that its free, and easy to create and maintain.
Will I grow my business through Google my Business?
Think of the listing as a way of giving a customer a secure feeling about your existence and credibility. They can almost see into your door, it's like real time shopping. They can even see if you are open or not, and what your building looks like.  Then they can contact you easily by calling then and there or using Google Maps to follow directions to make a purchase.
Should I also have a Website as well as a Google my Business listing?
A website is a necessity for business. A listing on Google my Business is a quick view for customers wanting to see the important details pertaining to your business, where you are what your number is and so on. You are making it easy for them to find you and contact you. It serves a different purpose.
If you don't have a website, we recommend you create one. You can create so much extra content about your business and link all your social media activities too. Far more details can be found here about your product offerings including an online shop for sales too.
How do I optimize Google my Business to help my Google ranking?
This is a good question. By keeping your listing up to date, adding pictures and posts on a weekly basis, you keep it interesting. Relevant keywords should be used in your text. The addition of Google Adwords Express once optimized is a good idea. This is a cost-effective way of advertising in your local area. You can limit the radius and set your own budget levels. Google will match your business to search queries and this will help drive your ranking through website visits.
Tell me more about Google AdWords Express
This is an especially useful advertising tool for small and medium sized businesses to use instead of Google AdWords. The advantage is that its right there waiting for you on Google my Business and is simple and easy to use. With Express you pay for calls and clicks only. You can write your own ad, with a short description and a include a link to your website.  Your Google my Business details listing will show themselves to the local people you are aiming for.
What happens if I get fake reviews on My Google Business?
While this is not a common occurrence, it does happen. The problem is that you can't remove them yourself. Once they are there and you feel that they are untrue, you can appeal to Google to review them.  This is done through the Google my Business dashboard. You can flag it as inappropriate content or ask Google my Business support to assess it.
Google My Business Optimization Tips: Final Thoughts
Optimizing your business profile on Google my Business is like having an extra SEO tool in your online armory. It is a platform to make your business profile easy for your customers to see immediately. It's your responsibility to ensure that the information is accurate, and up to date. The ease with which customers can contact you is a feature that cannot be underestimated. It helps you make customer service so much easier too.
Use Google my Business as the third leg to your SEO strategy to back up your website presence and your Google AdWord spend. It makes it easy for Google to rank you better and in turn you will see the returns coming your way quicker.
As you can see, proper Google My Business optimization takes a lot of time and effort, but the rewards will make it well worth it! If you need a little help, check out our local SEO services and let us take care of all this for you, while you focus on growing your business.