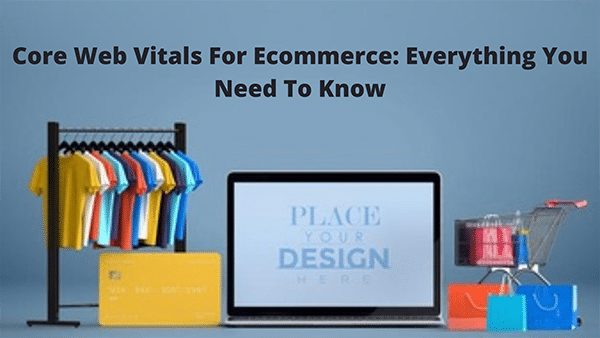 A custom furniture brand needed to quickly improve its content management to ensure better engagement, search engine optimization, and higher visibility. This brand is called the Burrows– a custom furniture brand that leverages the headless content management system approach to improve core web vitals.
So, what is it? And why does an eCommerce brand like Burrows need it?
For starters, it is one of the most important aspects of Google's Page Experience update, which will impact the indexing of websites. Better core web vitals means higher search engine rankings, better visibility, and surging conversions. It looks like a win-win! 
So, here we will discuss everything on core web vitals and why an eCommerce website needs it?
Core Web Vitals: What are they?
User experience is at the core of indexing different web pages, especially for Google regarding search engine rankings. Core web vitals are a set of parameters that Google uses to measure the user experience that different web pages may offer. 
These parameters have specific scores, which are the bare minimum for websites to achieve better search engine rankings. For an eCommerce website, users' shopping experience can make or break conversions, and by measuring the core web vitals, they can improve sales.
These core web vitals include,
Largest Contentful Paint (LCP)
First Input Delay (FID)
Cumulative Layout Shift (CLS)
Largest Contentful Paint (LCP)
LCP helps measure the time that your main content takes to render on the screen. It measures user-centric metrics known as perceived speed. Every web page takes some time to load its main content, and that is where perceived speed comes into play; it allows you to understand how a user perceives your content rendering experience.
You can consider LCP as a measure of loading that first image or written content on the web page when it starts loading. For enhanced user experience, Google has kept the LCP a maximum of 2.5 seconds or lower.
First Input Delay (FID)
First Input Delay is a user-centric metric used by Google to measure the load responsiveness of any web page. Load responsiveness relates to the time a page takes to load and execute the required Javascript code, which helps respond quickly to the user's request. 
In other words, FID is a metric that allows you to measure the responsiveness of any button or link that a user will click. As per Google's guideline, the FID for any web page needs to be 100 milliseconds or less.
Cumulative Layout Shift(CLS)
CLS helps measure the visual stability of the web page. It helps measure sudden changes in the layout transition, leading to accidental clicks and transactions. For example, if you are on a checkout page of an eCommerce website, higher CLS can lead to unintentional clicks, which will annoy a consumer or drive them away. 
Further, it can also lead to specific problems with call-to-action buttons that help your business with higher conversion rates and revenues. For enhanced user experience, websites need to keep a CLS score below 0.1 seconds. 
However, core web vitals are one aspect of an entire page experience update that Google deployed recently to rank websites in 2021. It further involves attributes like, 
Mobile-friendliness- You can check the mobile-friendliness of your website through a test designed by Google. You can resolve them to improve the mobile experience if there are issues.
Safe-browsing- Your website needs to follow specific browsing guidelines for your users to have a secure experience which also helps in improving the search engine rankings.
HTTPS-security- Google considers websites with SSL 2048-bit encryption certificates the most secure and has included it as a ranking factor. There are several types and validation levels of SSL certificates that you can opt for on your website, like wildcard SSL certificates, EV SSL certificates for maximum trust, and others.
Intrusive interstitial guidelines- Google expects your websites to use the main content and rely less on advertisements, interrupting the user experience.
Now that you know different core web vitals related to rendering content, interactivity, and visual stability, let's explore how to measure them.
How to measure core web vitals for your eCommerce website?
Measuring core web vitals for your eCommerce website is essential to identify the problems and analyze design problems. For example, suppose your LCP is higher. Then, you need to leverage the lazy loading approach where the website's main content is loaded faster and later massive image files load, providing an enhanced user experience. 
So, how will you measure core web vitals?
Here are some of the best tools, 
Google search console
It is one of the most used tools to analyze websites which comes with a new feature that allows users to check on the core web vitals. However, URLs without pre-requisite search results or information get removed from the console.
Lighthouse
Lighthouse is another tool that helps you with insights on your web application performance and the core web vitals, including PageSpeed Insights. It also allows you to measure critical aspects like LCS, FID, and others directly for your website with recommendations that will help you improve performance. 
Chrome Devtools
Chrome Devtools helps you measure the visual inability and problems with the layout shift. With this tool, you can precisely find the CLS is high and make adjustments for an enhanced user experience.
Knowledge of tools and core web vitals is excellent but does that fit your bill? Why you need it is the most important question before employing your resources on it?
Why do you need to have healthy core web vitals for eCommerce websites? 
Ecommerce websites do not dwell on traffic alone for better revenues; they need better visibility, user experience, and more. With better core web vitals, you get the best of both worlds, higher search engine rankings, and enhanced customer experience.
According to a report, 70% of marketers believe that organic search traffic yields more than pay-per-click campaigns. So, you need to provide more than just search engine optimized content for your users to improve the organic search traffic. Improving the core web vitals helps your brand be far more engaging and enhance customer loyalty leading to more conversions.
Conclusion
Conversion optimization is a key to your eCommerce business, as without a good revenue stream, sustaining a competitive market can be difficult. With enhanced core web vitals, you can ensure higher organic traffic, engagement, and better conversions leading to higher business growth. So, it's time for your eCommerce websites to have a healthier report card!
Need help? Take a look at our WordPress web design services and get in touch. We'd be honored to partner with you!