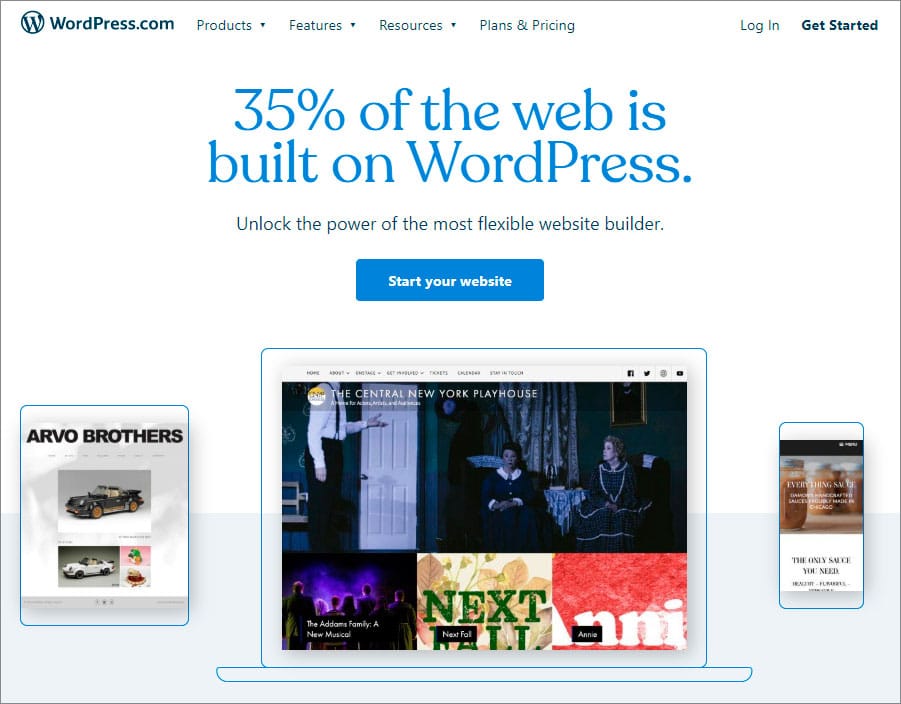 Are you looking for a website builder that can do more than give you a new template and theme? 
Are you looking for a website builder that can do more than give you a new template and theme? You might look for a robust website builder for multiple reasons. You might want a DIY website for:
A small business website
A personal website or blog
An ecommerce website or an online store that showcases your products and services 
Now you can make your own website even if you have no experience in coding. These DIY or what-you-see-is-what-you-get (WYSIWYG) website builders are ideal if you do not know how to code, or you simply don't want to get into the complexity of coding. 
However, WYSIWYG website builders can feel restrictive for professional website designers and developers, with an avid knowledge of CSS, HTML and PHP. At the same time, if you are looking to create a website that is complex and heavy, these website builder options might not be ideal for you. 
What are the top ten website builders of 2020? 
Determining the best 10 website builder platforms is no easy task. If you ask us "what are the top ten website builders?" we have no choice but to give you the detailed comparison of the best-performing website builder platforms of 2020:
Wix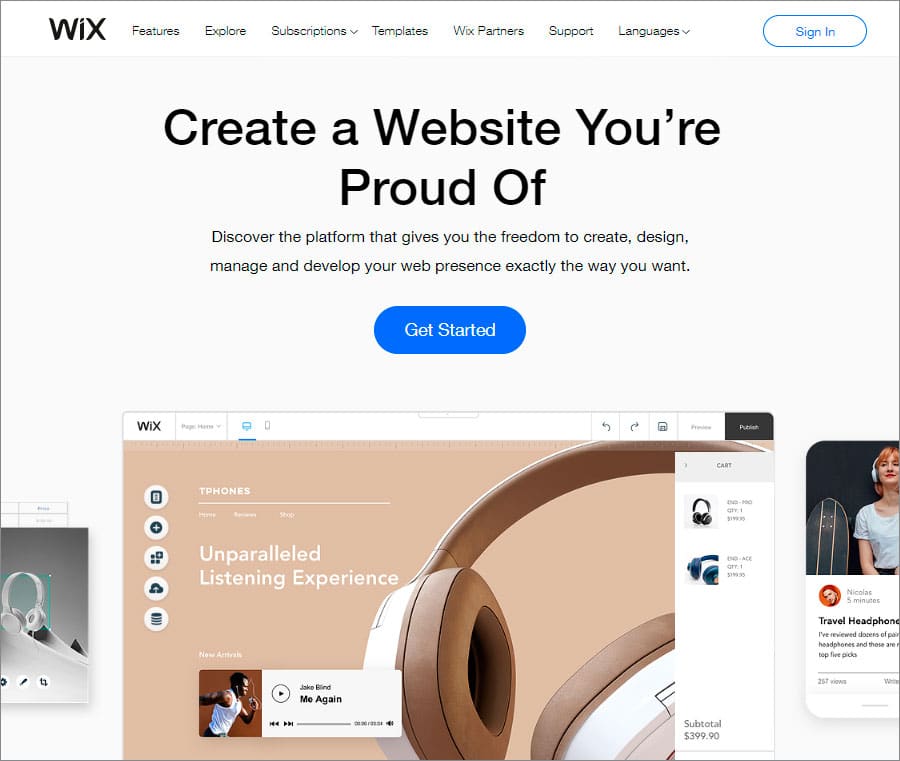 Wix is one of the leading website builders that is both easy to use and affordable for small businesses. Here's why we love WixWix is one of the leading website builders that is both easy to use and affordable for small businesses. Here's why we love Wix:
Superb uptime – it currently boasts 99.96% uptime which is significantly higher than any other website builder in 2020. 
Affordable – the plan cost can vary between $13 foe the combo and $49 for the ecommerce packages. It has a limited free trial for all users. 
Expansive template library – Wix website builder gives due priority to design. It has responsive templates and themes, and a library larger than most contemporary WYSIWYG builders. 
Extensive customization – it is quite easy to master and it has almost endless customization options for all users. However, it is not ideal for larger complex sites and Wix sites can take quite some time to load on mobile devices. 
Rating – 4/5
Weebly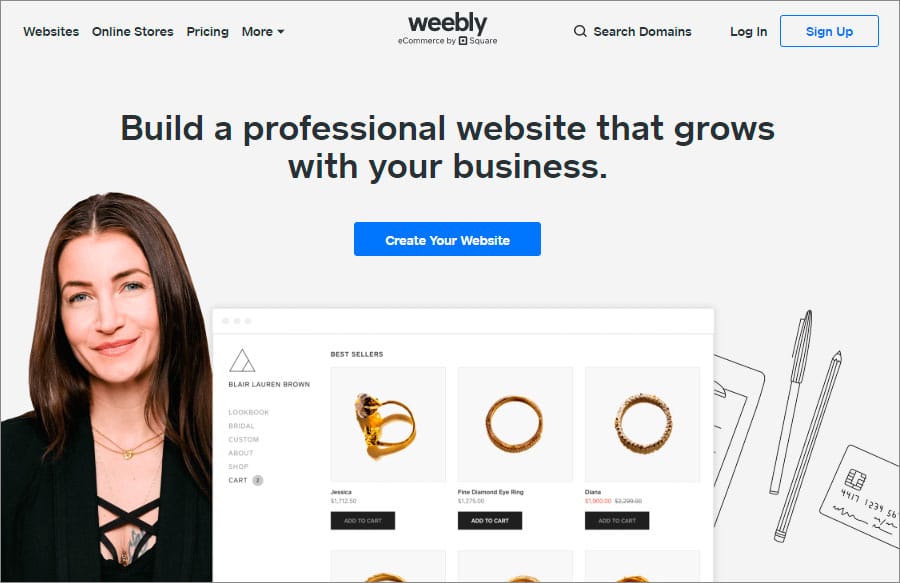 Weebly is popular among new and veteran website designers alike due to it great-looking templates and easy customization options. It offers a powerful editor with a host of features ideal for all sizes of websites.
State-of-the-art themes – Weebly features superbly stylish themes with responsive layouts. 
Scores of plug-ins – you can extend the functionality of your website by adding multiple plug-ins ranging from SEO to security. It has a dedicated app center. 
Easy to edit – the drag-and-drop editor makes customizing the Weebly templates both quick and fuss-free. 
Economic choice – you can get Weebly for as less as $6 per month. These plans drop the storage limit and bandwidth limit significantly for paid users. 
Weebly lacks a universal "Undo" option in the editor. Since Weebly also has a wobbly customer support and limited app options as compared to Wix and WordPress, we had to hold back on our rating a little. 
Our rating – 3.5/5
SquareSpace
SquareSpace is one of the favorite website builders among photographers. It is ideal for users who need an image-based site.
Contemporary and new templates – SquareSpace has more than 200 design templates that support image-first websites and easy edits.
Bespoke look and feel – almost all SquareSpace websites look and feel completely custom. The intuitive editor allows complete customization in seconds.
Commendable Uptime – SquareSpace is one of the few builders that has featured 99.98% uptime in the last quarter of 2019. Its speed is in the neighborhood of 200ms making it one of the fastest options.
No storage and bandwidth restrictions – all plans feature no storage or bandwidth restrictions. 
SquareSpace is indeed a little expensive unless you are looking for an exclusively design-centric or image-first website. The email accounts also cost an additional $6. It is perfect for photographers, designers, artists and models looking to create a visual experience. Other website designers can give SquareSpace a pass. 
Our rating – 3.5/5
Webnode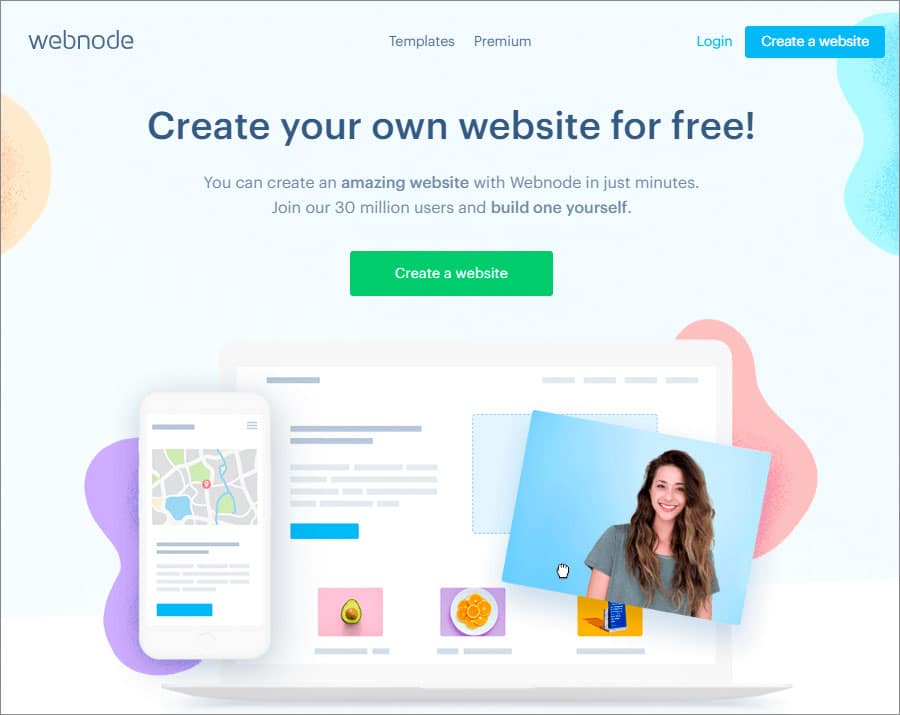 According to users, Webnode is a fuss-free and easy-to-use sections and elements website builder. You can build functional sites by stacking sections one after another, and adding customizing elements to each section.
A wide range of customization options – you can customize the 17 present Webnode sections by editing, adding and removing each element. You can choose from among 11 elements only.
Very simple – the builder is easy because it is simple. While simplicity is an advantage for new users, it can feel like the bare minimum for experienced designers who want a multi-functional site. For example, Webnode does not allow users to choose how many columns each page can have.
Webnode has blog – you can add a blog to your Webnode site. While there is a host of layout options, the number of features are restricted. There are no RSS feeds, or draft posts or blog comment support.
It is multi-lingual – it has commendable multi-lingual support that allows you to create several versions of your site. However, it does demand additional TLC. It does not come with iOS and Android apps. It is not retina ready and it does not support ecommerce features. It is quite expensive for the bare minimum features it provides to the users. 
Our rating – 3/5
Jimdo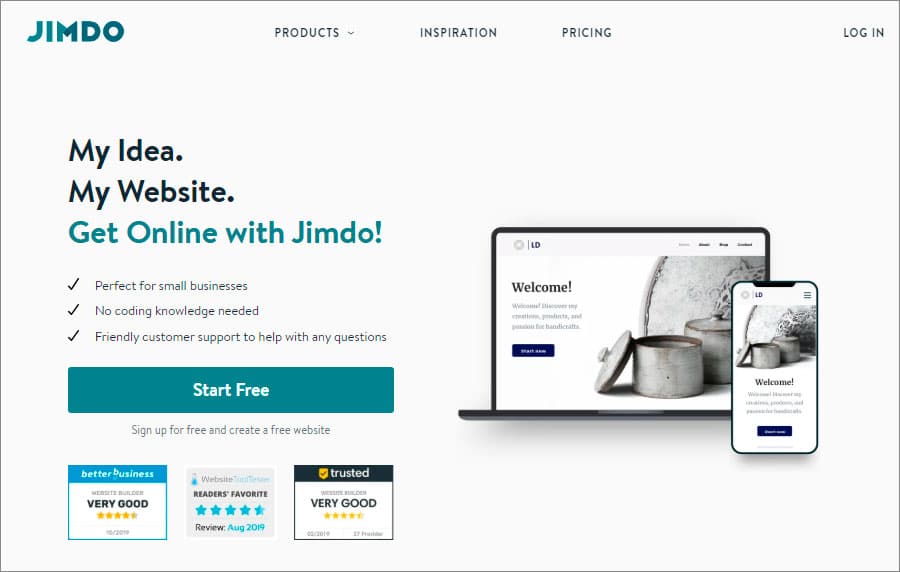 Jimdo is an intuitive site builder that is clean and quite easy to use. It is definitely contemporary and the themes are light-weight.
Easy to use – if you have any previous experience with WYSIWYG builders, you can get your website up and running using Jimdo in just 20 minutes.
Affordable – Jimdo paid plans begin at $9 per month and the yearly subscription comes to $108 without any hidden fee and charges. The email accounts are super cheap too.
Free domain – similar to other site builders, Jimdo offers free domain to all users for exactly 1 year. After the initial year, you can renew the domain rights for $20 per year. 
Jimdo has a limited number of templates – only 16! Although they are contemporary and quite easy-to-use, Jimdo does not have the strongest support system. Moreover, its uptime isn't as impressive as Weebly or Wix. 
Our rating – 3/5
WordPress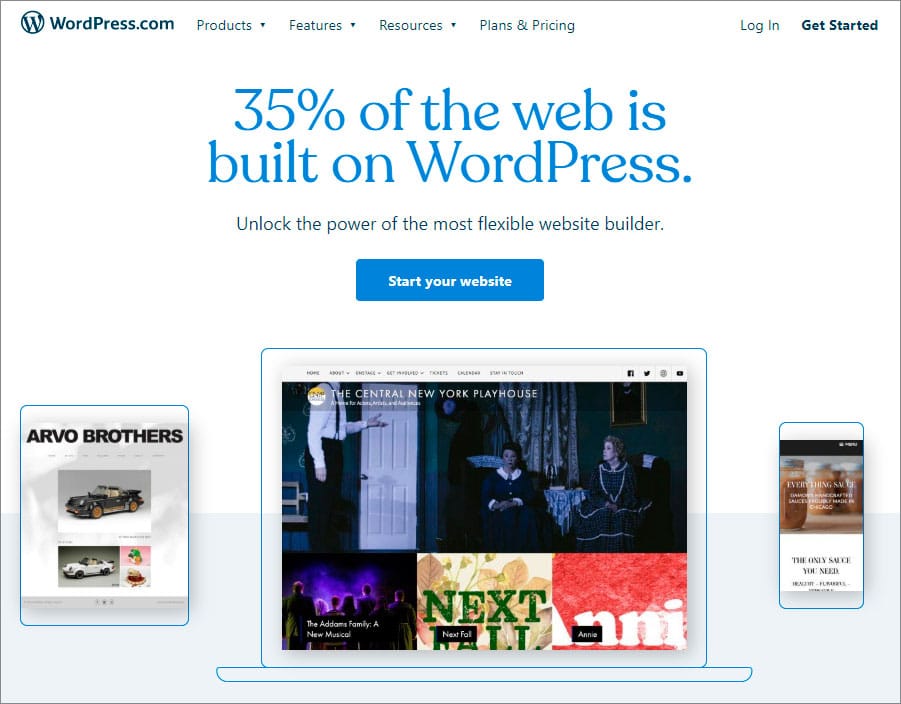 It is the best-known open source website builder that currently powers the Amazon and Microsoft blogs, Creative Commons website, and the Vimeo blog.
Here's why you should give WordPress a try –
Ecommerce integration – adding ecommerce features on your WordPress website is both easy and free. Unlike other website builders, WordPress does not charge you extra for adding ecommerce capabilities.
Round-the-clock support – paid users can access the chat-with-us form that connects them to a human rep within minutes. It does have a dedicated community of developers and users ready with solutions for all problems any WP user can encounter.
Reliable hosting – those who don't want to set up a new hosting account can pay for it through WP directly. The Personal plan is $4 per month and $60 a year without any hidden charges.
Unbeatable uptime – WordPress boasts an uptime of 99.99% and a loading time of 333 ms, which are commendable metrics for any site builder. 
The learning curve can seem a bit steep for first-time WordPress users. Many plans don't have the provision for a free domain and buying a new domain can cost around $22 per year. Moreover, not all themes are drag-and-drop.
Note: There is also an option for self-hosted WordPress websites, which is our top choice for  the best CMS and we specialize in WordPress web design.
Our rating – 4/5
Strikingly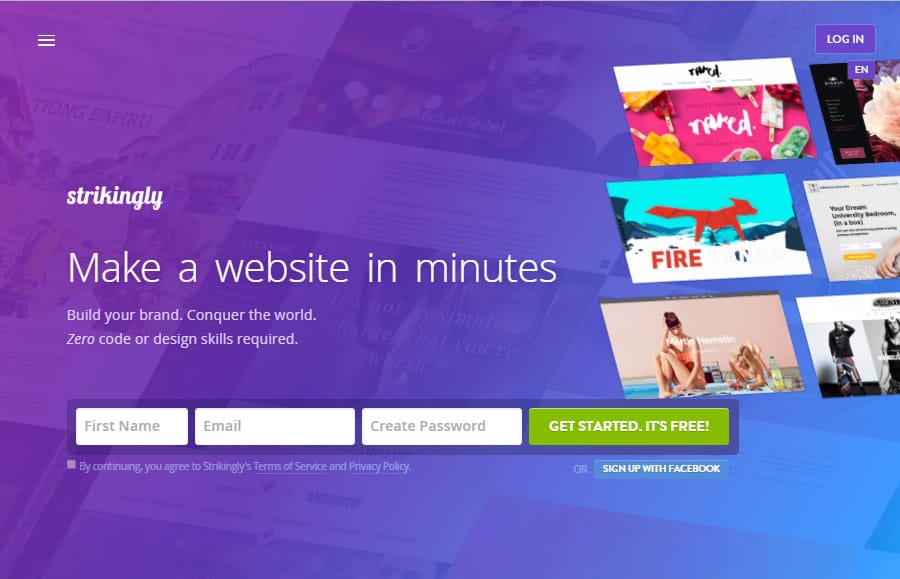 Strikingly is the undisputed leader of one-page website builders. The resulting websites are simple, easy-to-navigate and support tons of media files.
The kind of one-page site building – unlike other contemporary website builders, Strikingly is the leader of all one-page website building. It does support multi-page sites if you upgrade your plan.
Easy section stack-up editing – each page consists of multiple sections. These are blocks of content that allow you to build an entire page via simple stacking and rearrangement. It also has a strong suite of pre-built sections.
Supports blog – you can list posts and link pages to the blog section. The design of your blog is independent of the website.
Supports ecommerce features – it has simple ecommerce features that allows you to include product categories, variations, coupon codes and shipping options.
Strikingly does not have integrated newsletter options, form builders and audio players. It also does not have a membership system. It also has only 25 themes.
Our rating – 3.5/5
One.com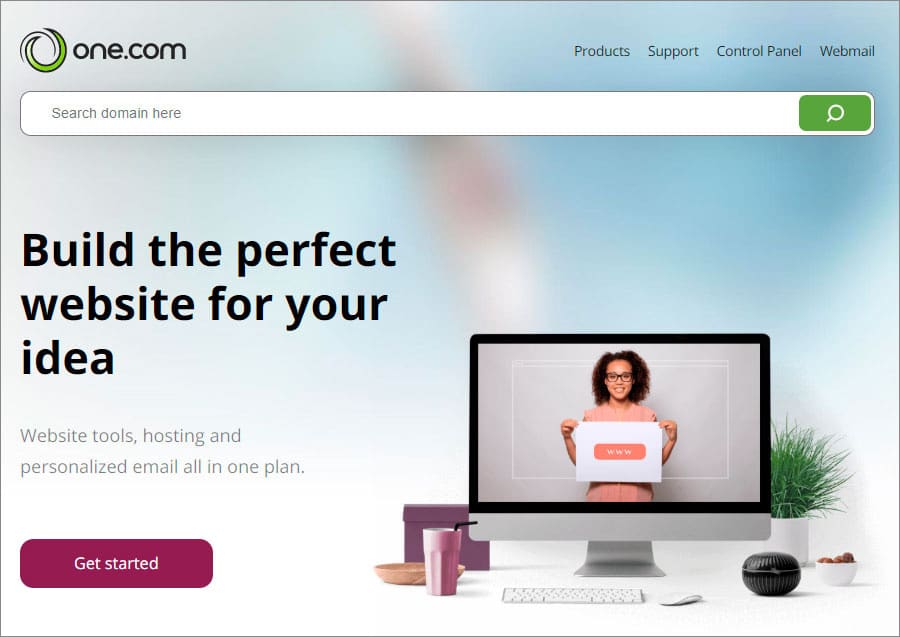 One.com is your builder if you are looking for an easy-to-use builder at low prices.
Here's why we liked one.com –
Affordable – the starter plan is at $2.45 per month and the professional plus package is at $6.57 per month. It comes with unlimited domains, 200GB storage and 2GB RAM.
Complete support system – complete with tutorials, the One.com builder has a dedicated support community and live chat. You can search the site's support section for specific instructions on troubleshooting.
Freedom of design – the templates are light-weight, flexible and quite easy to customize even for first-time users. The templates are responsive and retina-ready. 
Although it can seem too barebones for professional developers, One.com is simple enough for beginners with its transparent pricing and flexible plans. 
Our rating – 3/5
Site123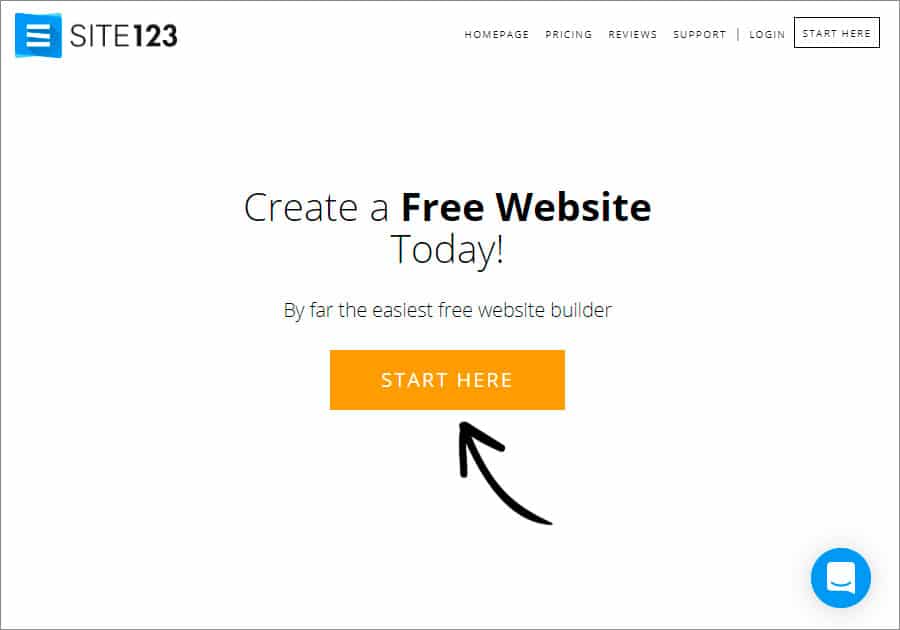 Site123 ushers a great building experience with an easy sign-up process. The Site123 editor is superbly simple to use, but not drag-and-drop.
Extensive product integration – you will find marketing tools as well as analytics tools in their extensive product library. Explore its ecommerce facilities to understand its diversity as a site builder.
Excellent templates – Site123 templates are completely responsive, and quite easy to use for any type of website.
Robust support – Site123 offers brilliant support thanks to its completely live chat features.
Blog features – it is one of the favorite site builders for bloggers. Complete with RSS feeds, social bookmarking, search features and analytics, Site123 blogs are powerful and SEO friendly.
Site123 is the perfect simple website builder for small business owners and bloggers. However, even the paid plans have ads on sites. 
Our rating – 4/5
GoDaddy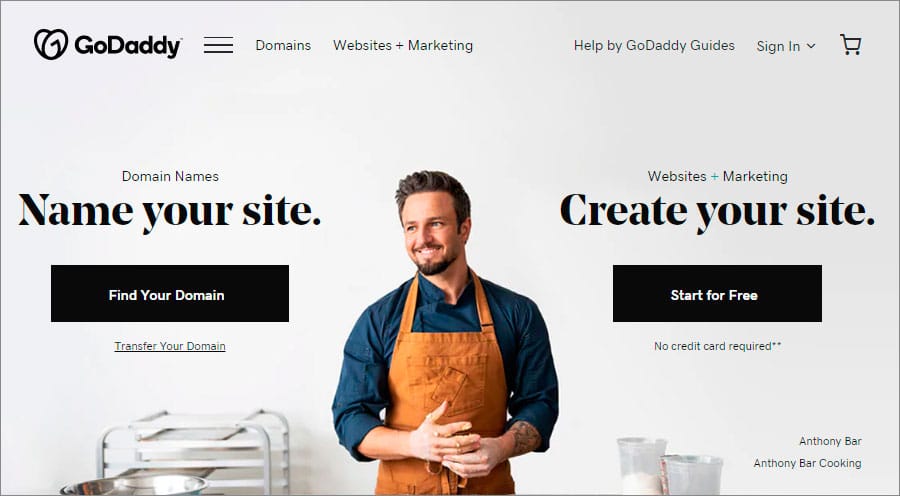 GoDaddy is the market leader in domain names and website hosting, but you can also build your website with them. Here's what we like about it –
Pricing – the pricing is transparent without any additional/hidden charges. The paid plans begin from $10 for the basic amenities and ad-free sites.
Responsive templates – the templates and themes are always smartphone ready. It is a huge pro in terms of SEO and accessibility.
Easy-to-use editor – the GoDaddy editor is one of the best structured and easiest to use. It has a smooth learning curve that allows easy addition and removal of elements.
Ecommerce support – you can not only list your products and add multiple categories, but you can also integrate PayPal buttons. However, you will also need to upgrade to the costliest plan.
For ecommerce sites, GoDaddy might not be the best choice. Moreover, their blogging functions are basic and they offer limited template flexibility. The support might not be enough for new designers. 
Our rating – 3/5
These are the top 10 most popular website building platforms that have been powering the lion's share of all websites that are now online!