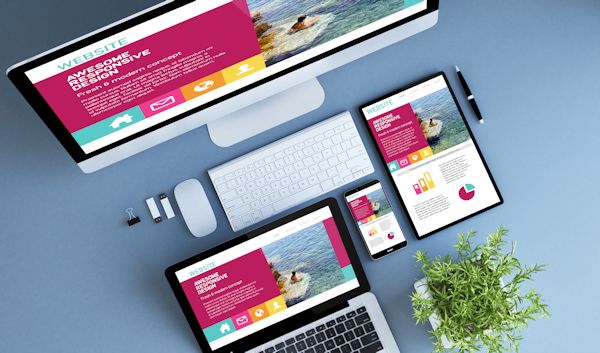 You have a website for your work, but is your website truly working for you?
Awesome websites should do more than work and look nice. They should be bringing in potential new customers.
When websites are designed correctly, they can be lead generation pipelines for businesses.
There are some things every successful lead generation website has in common. If you follow these steps when you're evaluating your website, you'll have an online lead generation machine in no time.
1. Know Your Target Audience
Who would you say is your target audience? If your answer is "anyone", you need to invest time in figuring out your true audience.
When you don't know who you're selling for, you can't properly target your website or content towards the people who need it the most.
Market and audience research are important for businesses. You may not have a lot of knowledge about your customers now, but doing a simple exercise can reveal a lot of important information.
Take time to think about your ideal customer. Don't just think about what they're buying or how often they spend money, think about them on a personal level.
What age are they? Do you see yourself catering to people close to retirement age, or is your dream customer is a millennial or member of generation Z?
Think about what they do for a living. Are these white collar workers than earn at least $80,000 a year, or are these people that make around minimum wage? Could they be unable to earn income, and rely on their parents for money and support?
Answering these basic questions will put you on your way to truly understanding customers that matter the most to you. Besides that, find ways to make your business more efficient; one of which is by creating paycheck stubs to track income.
2. Make Your Phone Number Visible
Take a moment to look at your homepage. If someone that doesn't know anything about your business or what you do landed on it, how easy would it be for them to find your contact information?
Contact information can make or break turning a casual visitor into a genuine lead.
If people can't find a way to contact you for your more information, they could leave your site.
A phone number is still essential in today's highly connected world. Having a phone number on your website makes it easy for people to get in contact with you easily.
Make sure you make the phone number clickable on mobile. Clicking the phone number should give people the ability to call you with the push of a button.
Be sure to have it visible on every page of your website. Some people find that it's easy to add it to the header or the footer so that the site design stays consistent.
3. Make Contacting You Easy
The key to including contact information is to make it easy for a customer to contact you.
Make sure to provide more than one way to contact you.
A phone number and an email address is a must. Most people expect to see both on professional websites. An email address and phone number are easy and common ways for people to get in touch with you, but they aren't the only way.
Consider using pop up forms that people can enter their information into and send off fast. They can have a better conversion rate than mail-to forms, and they make it easy for customers to write to you without having to go through extra steps.
You may also want to consider using a chatbot on your website. When people land on your homepage, a chatbot can greet them and can be programmed to answer common questions people ask.
A chatbot can help improve customer service. People can get the customer service they need 24/7.
4. Add Credibility With Customer Stories
Have you been paying attention to what people are saying about your business on Yelp or Google? If you don't keep up with popular review sites, you could be losing out on leads.
Awesome websites for businesses should be filled with stories from satisfied customers.
Are you not convinced about the power of online reviews? It's estimated that 90% of consumers look for reviews about a business online. Having great customer testimonials and reviews can help bring in and convert leads.
Getting reviews from your customers can be easy, you just need to ask them the right way.
Many small business owners find that it's effective to speak with customers they know well and personally ask them for a review. If you have someone in mind, send them links to your profile on review sites and ask them to write something.
Start collecting e-mail addresses from customers so you can build an email marketing list. Craft a simple email to send customers after they make a purchase to ask them for a review.
If you have a robust email marketing campaign, be sure to include links to your review sites in each email you send. Including a sentence or two showing your appreciation for customer reviews can help solicit reviews.
5. Utilize Trust Seals
People want to know that a business is credible before they invest any time and money with them. An easy way to build trust and demonstrate expertise is to show it through trust seals.
A seal from an industry leader or a business bureau can let people know that you and your business can be trusted. It adds credibility and expertise to what you do.
A badge from the Better Business Bureau or buySAFE can put new customers at ease.
Be sure to display them prominently on the home page. Some people chose to make the seals a part of their footer so that people can be reminded of its presence everywhere.
6. Make An Offer
It's common for lead generation sites to showcase an offer to potential customers. Give your customers a reason to want to use your products and services as soon as they land on the page.
If you offer free shipping on orders, make that known on the home page. Mention it in a banner, or highlight it in website text.
Do you have important information you can share with them? Give visitors a free copy of your ebook.
These tactics help your visitors make easy decisions with little to no risk. They give people something for their time and can help make buying decisions easier.
7. Use Persuasive Copy
If you want to bring in new customers, you need to put them at the forefront of your copy.
Personalize your copy with words like "you" instead of "client" or "customer", and "we" instead of your business name. It makes the copy sound more customer-focused and places the importance on the reader.
Focus on highlighting the benefits of your products or services, not the features. Detail how it can help solve common problems.
8. Have A Legitimate And Unique Looking Website
Web design fads can come and go quickly, but having a unique and well-designed site will never go out of style.
Platforms like WordPress can make it easy for people to create their own website, but they don't do much to add legitimacy to your website.
If you were looking for a reputable business, how would you feel about one that's using a basic WordPress template and doesn't have anything unique about it?
Using a cookie-cutter template looks bad, and takes away from the legitimacy of your business.
It's worth looking into professional  website design companies to give your website a makeover.
Having a unique looking website that works well can do wonders for converting leads.
9. Tell Customers What To Do Next
The ideal kind of lead is someone looking to make a purchase today. But there are far more people that aren't ready to buy today but could be ready to sometime in the near future.
If you want to nurture these potential leads, make it easy for them to identify what their next course of action should be.
Do you want to entice them to buy by demonstrating your industry expertise? Link them to your blog or video content, and prompt them by using language like "view", "read", or "browse".
Do you want to get their email address so you can add them to your mailing list? Add a pop-up box on different web pages and ask people to submit their email address so you can stay in touch.
10. Make Your Website Responsive
In the past, simply having a live website was enough for business owners that wanted to grab leads from online visitors. Today's business owners need to have a website that can work in a variety of environments.
Responsive web design means that your site should be able to be properly displayed in different browsers. Your website should look and function the same regardless of if someone is looking at it on a laptop, mobile phone, or tablet.
Are you unsure if your website is properly responsive? Take a look at it on your phone.
Does the text stay aligned, or does it spill out into other areas of the page and make the site look sloppy? Are the pictures on your website appropriately sized, or do they look too small or take up the entire screen?
If you're noticing these problems, find someone to help make site changes ASAP.
More Advice For Awesome Websites
Now that you know how awesome websites become lead generation machines, you're eager to transform your own. Need some help getting started? Checkout our affordable WordPress web design services.
We have plenty of interesting content about proper website design on our blog. Check out some of our latest posts so you can educate yourself on the right way to build a website.
If you're ready to have a professional look at your website, we're here to help. Get started today by getting your free quote from us today.