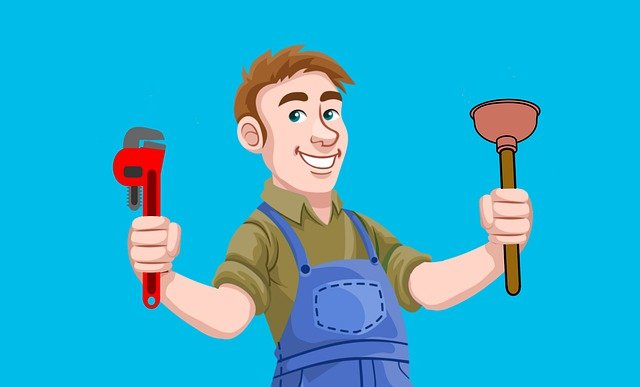 The majority of local businesses use their websites for advertising and brand management. Restaurants, for example, will typically use high-quality, appetite-inducing photos to promote their business. A plumber's website, on the other hand, is likely to receive visits from customers who are experiencing a plumbing emergency at their home or business. 
As a result, knowing which plumbing website design tips to use is critical to improving your lead generation capabilities, which can lead to increased sales.
A well-designed website is essential for running a successful plumbing business. Not only that but it must be professionally optimized for SEO and marketing. We help plumbing business owners in staying competitive by providing some of the best plumbing website design tips in the industry.
As a business owner, you already have a lot on your plate on the job site. Back at the office, it's critical that your website generates as many high-quality leads as possible. After all, a steady pipeline of customer leads is essential to your plumbing company's success. 
This includes communicating your services, sharing reviews, and providing your audience with the information they need to hire your plumbing services. 
In this article, we'll look at the best plumbing website design tips for converting more site visitors into qualified leads and revenue.
Professional website design for your plumbing business
Having a fully functional website helps you to direct visitors to get more information, educate them, and eventually convert them into customers. It's also critical to make sure your website has a professional appearance, which can be achieved through professional website design.
The plumbing industry is now more competitive than it has ever been. The good news is that our plumbing website design tips can help you stand out from the crowd. This makes it easy for your target audience to find and visit your website. 
Good website design also helps your visitors learn more about the services you provide and how they can contact your team. For that to happen, plumbing websites should be tailored to specific needs and your ability to meet those needs quickly and efficiently.
When a potential customer has a plumbing problem, it is usually an emergency. They will most likely give their business to the companies that respond the quickest. Not within a few hours, and certainly not within 24 hours. They require your assistance RIGHT NOW.
Let's take a look at how our plumbing website design tips can assist you in reaching the right audience. These tried-and-true strategies are intended to entice them to your website, win them over, and convert them into new customer leads the same day.
Plumbing Website Design Tips for Lead Generation
Your plumbing business website could be a valuable asset that generates excellent leads 24 hours a day, seven days a week. However, it won't help you much on its own. These plumbing website design tips will help you turn your site into the ultimate digital marketing tool for your business.
Tip #1: Your website's overall design is important.
A modern plumbing business website should be easy to navigate. That is, it must contain high-quality content that is easy to understand and presented in an organized fashion. Furthermore, it should include high-quality images that can help draw your viewers' attention from one topic to the next.
That is just one of many characteristics that distinguishes our professional website design from a website obviously thrown together by amateurs.
Second, it is critical to recognize that SEO is a long-term strategy that, when done correctly, can pay off in spades. Also, You are a plumber, not a web designer, so hire one. When someone's toilet breaks and they search "plumbing near me," your website should be one of the first options they see. Make it simple for people to contact you on your website.
Listing your phone number, address, and email address up on the top page for people to see is a great way to do this. All the flashy bells and whistles in the world won't help you if potential clients can't get in touch with you.
Tip #2: Optimize your website for local SEO.
Local SEO is a marketing technique that involves increasing your online visibility in order to rank higher in local search results. Local SEO tactics include customizing crucial SEO components like Google My Business (GMB) and Meta Descriptions for your state, region, or city.
Customers today will not bother looking up local businesses in the yellow pages. In fact, an increasing number of them are unaware of what yellow pages are! Having a GMB account increases the likelihood that your business will appear higher in the Search Engine Results Pages (SERPs).
However, most local business owners do not have a significant background in SEO. Even if they did, running a business while also handling your SEO tasks in-house is a recipe for disaster. 
Because Google is always evolving, we must all evolve as well. To stay ahead in this new SEO landscape, you must continually assess, conduct research, and run tests to understand what works in your market and with your target audience.
Tip #3: Put your competitive advantage on display.
It is critical that you are able to distinguish yourself as the plumbing company to hire from other competitor websites. Needless to say, there are a boatload of plumbers out there, all claiming to be the best at what they do.
Don't hesitate to highlight the qualifications that make your business the better option to hire. Assuring your community that your business is fully staffed with plumbing specialists ready to respond to their needs is an important part of this. Customers will also want to know what rates and financing options you have available, if any. 
Studies have shown that most consumers only take action once they've read other customer reviews. Therefore, they'll judge your business's transparency depending on whether or not you have client reviews and statistics on your plumbing website.
Using schema markup on those reviews can significantly increase your Google click through rate. When properly coded, Schema allows your Google listing to display the number of reviews beneath it. So, if your page has ten reviews, all of which are five stars, it will appear in the SERPs!
As exceptional as your business services can be, you can't always please everybody. Even great businesses get bad customer reviews from time to time. Fortunately, there's no need to hide from less-than-stellar customer feedback. Simply respond to these concerns, demonstrate your worth by learning from the experience, and keep earning positive results.
Tip #4: Select original, high-quality photos with a purpose.
Users can make informed judgements regarding the worth of your website when you use high-quality images. As a result, it stands to reason that the higher the quality of the photos you use on your site, the better the experience your visitors will have.
The images you choose to use on your website are important. You should definitely avoid using stock photography, and you also don't want to waste money on vague photos of plumbing services. Instead, focus on capturing high-quality photos of the projects on which your team has worked.
Another good approach is to show how you were able to save homeowners from a plumbing disaster. Visibility with all of your previous projects is an effective way to build credibility and encourage consumers to contact you. 
When disaster strikes, they'll know who to turn to for immediate and professional plumbing services.
When you think of brands that use social media to grow their online presence, a plumbing business is less likely to come to mind than, say, a restaurant. When looking for local business services like plumbing, however, consumers now look at both company websites and social media pages.
In fact, having a social media presence with content similar to your company's website can be an extremely effective digital marketing strategy to pursue. Social media can help in getting your brand in front of your local audience. Especially if you post photos and content that personalize your relationship with your community on a regular basis.
Benefits of social media for plumbers:
Improves SEO: Having a social media presence increases your chances of being discovered and improves the performance and sales of your website.
Relationship building: You have the opportunity to develop strong relationships with new clients, converting them into brand loyalists.
Cost-effective: Creating a social media profile is free, simple, and fast. You can use your budget to fund larger-scale projects and objectives.
However, it is critical that you only link to your social media account if it is actively maintained and updated on a regular basis. Remember, you want to demonstrate that you care about the community and share your accomplishments on social media.
Good Website Design Is Essential for Business Success
We are confident that the above plumbing website design tips will help you in making your website more user-friendly. Prospective clients will not only feel welcomed, but they will also interact more, return to your website, and promote it to their friends. As a result, the number of visitors to your website and the conversion rate of your goal are likely to rise.