What is Mobile Optimization?
Website traffic is no longer limited to desktop users. Mobile phone and tablet users have become a major audience in online browsing. As the mobile revolution pushes on, mobile users make up almost thirty percent of search queries.1 With increased traffic from tablets and phones, it is absolutely crucial that your website is mobile optimized.
Mobile optimization means that the website is optimized for the mobile user. Long gone are the days of scrolling and clicking with a mouse. Thumbs are the new way of surfing and navigating websites. When buttons are too close and text is too small, users are more likely to leave the site altogether and move on. A poorly mobile optimized site means the user is required to pinch the screen to zoom or rotate their device sideways to fit the website onto their screen. Without optimization, users often fat finger buttons when navigating- preventing them from getting to their desired page and interacting with the website in general. Filling out contact forms, viewing galleries, and using the navigation bar easily are all important elements in a mobile friendly site. In many cases,mobile devices are incapable of displaying the entirety of a website without optimization. In essence, a mobile optimized site means an easy reading and navigation experience for a growing group of internet users.
Google & Mobile Optimization
While Google makes up over 60% of desktop searches (in relation to Bing, Yahoo, and AOL), more than half of Google's searches come from a mobile device.2 It is not surprising given that the internet is at our fingertips 24/7. In fact, Google is the fourth most used app on mobile devices!
In 2015, Google announced that they would factor in website mobile optimization into their search results.3 In other words, sites that were mobile friendly received a boost in their ranking in comparison to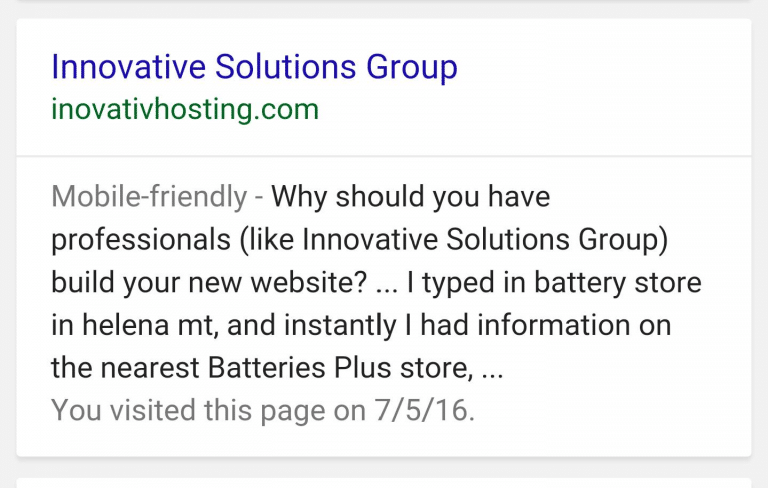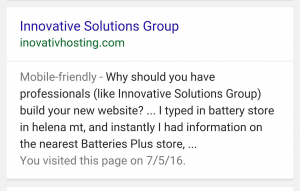 sites that were not optimized. When searching from a mobile device, Google tells the user which site has been optimized in the site description.
This means that your site must be mobile optimized to compete in the world's most popular search engine's rankings.
The team at Innovative Solutions are professionals in mobile optimization and can help your website compete in the world of search engine optimization. Our developers and designers are experts in creating captivating websites for screens of all sizes. Contact us here or send us an email to get started on your website's mobile optimization!
Is your website mobile friendly? Enter your site's URL into Google's mobile friendly test to find out.
1 Google Blog 2 Search Engine Land 3 Google AdSense Help


Mobile Friendly Website – Infographic was created by FirstSiteGuide using info from their in-depth guide on how to make your website mobile friendly.